Peak performance, day in and day out
Speedway Revolution RFID Readers
The Speedway® Revolution reader from Impinj® delivers peak performance, automatically, day in and day out. The Speedway Revolution's "Autopilot" enables innovative firmware features to work together, optimizing the reader operation to suit its environment and enabling it to deliver peak performance at all times.
Whether you are initiating a pilot RFID program, transitioning a pilot program to a full installation, or expanding your RFID solution, Speedway Revolution reader will deliver the highest reliability and sensitivity capabilities in the industry today. There are two different models available, with two or four antenna port configurations.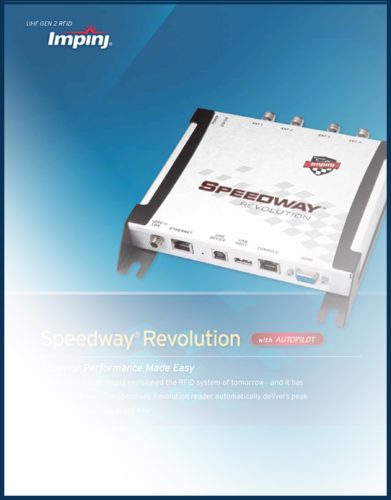 With industry-best sensitivity and multiple configurations available, the Speedway Revolution RFID reader delivers high performance every time. The unique Autopilot feature automatically senses the environment and configures settings for best performance.