Experience, Partnerships and Relationships
As the most-experienced RFID solutions provider to the textile industry, Positek RFID offers a full line of RFID-related products including tags, readers, antennas, custom software solutions, freestanding portal readers, bundle readers and custom tunnel readers to fit any operation and work environment. Positek RFID tracking technology and solutions are used on a wide variety of products and in many industries.
A Trusted RFID Solutions Provider
All of our relationships with our clients begin with a comprehensive analysis of your operations. We study the way you work and then work with you to design an RFID solution that fits your precise needs. We know what you need – and what you don't need – and we bring together the partners, services and products to build your own custom RFID environment that will give your business the reliable, consistent results you need to succeed.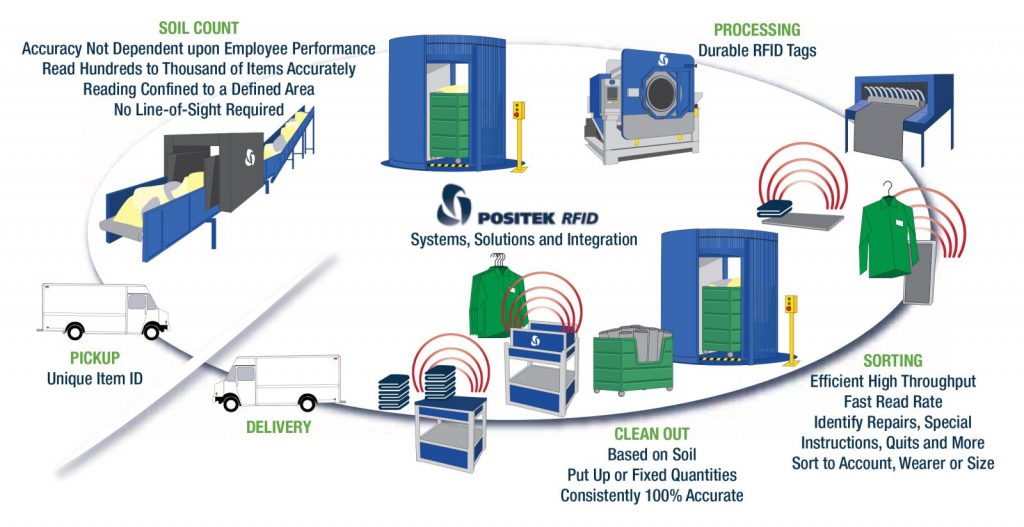 Consistent, replicable, reliable and accurate services – every time
As the largest RFID total systems solution company in North America we support RFID solutions for hundreds of companies worldwide.
Positek RFID blends the capabilities and expertise of an RFID company and a textile maintenance company into one integrated solutions provider.
Our long-term, dedicated employees understand the textile maintenance business – and your business – inside and out.
Our partner relationships allow us to custom design and build the products and solutions our customers need to grow their business and operate more efficiently. Positek RFID offers services that are consistent, replicable, reliable, and accurate, every time.