Ultra-rugged RFID tags in a cost-effective package
Fujitsu's ultra-rugged WT-A546/A548 RFID tags are designed to make entry into RFID tagging and tracking more affordable than ever. The compact form factor is smaller than the competition, but it does not sacrifice performance or quality.
Built to withstand the rigors of flat linen applications with superior performance, the WT-A546 and WT-A548 RFID tags can withstand high-pressure extractors and can easily be inserted to any type of flat linen while being virtually invisible to the human eye. With these ruggedized RFID tags, flat linen owners can improve operations and enhance their bottom line.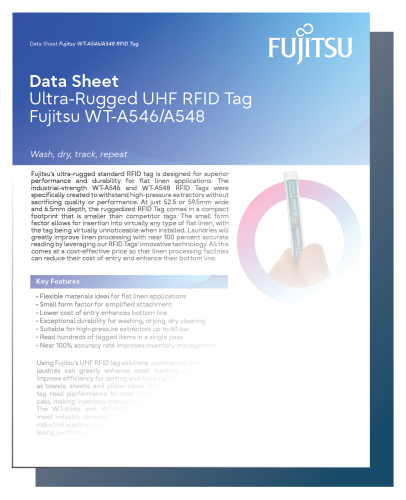 The WT-A546/A548 RFID Tags are ideal for flat linen uses and are cost-effective for linen owners. RFID reading makes linen processing easily manageable by enhancing operational processes and providing near 100 percent accurate reading of hundreds of items in a single pass-through.