SlimLine A6031 UHF Assignment Antenna
Part of the SlimLine range of multi-purpose antennas, the A6031 is an ultra-low profiled circular polarized flat panel antenna for UHF RFID applications in customer-facing or space-conscious environments. With a read range that stretches up to 4 m/ 13 ft, the A6031 is similar in size and weight to a tablet PC and can easily blend into any office or retail environment.
Weight: 1.3 lb
Size: 10.8 in. x 8.5 in. x 0.5 in.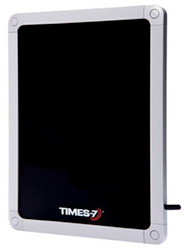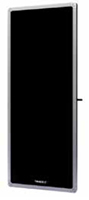 SlimLine A6034 UHF Low Profile Antenna
The SlimLine A6034 is an ultra-low profile circular polarised flat panel antenna. It is well-suited to RFID applications requiring a high-capacity read zone and long read range antenna that reaches up to 9m / 29ft. It easily mounts on dock doors, ceilings, walls and portals, and its rugged design is suitable for a wide array of industrial applications.
Weight: 4.8 lb
Size: 29.4 in. x 12.4 in. x 0.5 in.
Laird 10×10 Circular Polarized Panel Antenna
The Laird 10×10 S9028PCL antenna is a circular polarized panel antenna that provides reception and transmission of signals in the 902-928 MHz frequency band. Laird's industry-renowned design methodology achieves maximum efficiency and performance across the entire frequency band. Both VSWR and axial ratios are excellent and allow the user to achieve the maximum performance for an antenna of this type. The antenna is housed in a heavy duty radome enclosure that can be directly wall mounted, while an optional articulating mount allows either wall or mast mounting. The antenna is offered with an integrated coax pigtail and a variety of connector types are available.
Weight: 2.3 lb
Size: 10.2 in. x 10.2 in. x 1.32 in.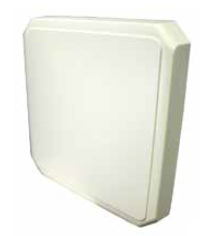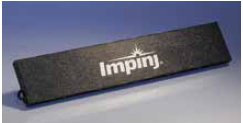 Impinj® Threshold-FS Antenna
Initially designed for boundary/threshold crossing applications, the Impinj Threshold antenna has a very wide beam width to maximize zone coverage. Threshold antennas provide a consistent and continuous read zone when linearly distributed head-to-tail. At 46 x 9 x 2 cm, the Threshold antenna's planar form factor fits readily into a urethane ramp or onto fencing. Two models support the UHF frequency ranges particular to Europe (865–868 MHz) and North America (902–928 MHz).
Size: 46 cm x 9 cm x 2 cm
Laird 5×5 Mini Panel Antenna
The Laird Technologies' S9025P is the latest addition to the high-performance RFID antenna lineup and is the only UHF RFID antenna available to the market that offers no-compromise performance in a small package. At only 5.2″ square the antenna offers a gain specification of 5.5 dBic and axial ratio better than 2 dB. In effect the antenna is providing the performance one would expect of a much larger antenna. The antenna is not only mechanically robust but is less likely to be exposed to excessive damage by virtue of its reduced size.
Weight: .8 lb
Size: 5.2 in. x 5.2 in. x .71 in.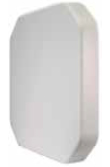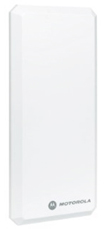 Motorola AN440 Antenna
The AN440 RFID Antenna gives you a wide read field and high-speed RF signal conversion, so data capture is fast and accurate, even in expansive, high-demand environments. The AN440 is easy to mount on ceilings and walls, and its rugged white housing is at home in both customer-facing and industrial settings. Achieve superior read zones around stockroom shelves, warehouse doorways and dock platforms – anywhere boxes and pallets are moving into and out of your facility.
Weight: 4.2 lb
Size: 22.6 in. x 10.2 in. x 1.32 in.